Book your New Year's Getaway to the Florida Keys
Our New Year's Eve celebration last year was exceptional, but we are determined to trump it this year. Brace yourself for two remarkable live musical performances, an exquisite beach dinner party with endless delectable dishes, along with an exclusive Bogie & Bacall's Secluded Soirée*, captivating Fireworks display, and more lavish delights that will elevate your experience. Get ready to indulge in pure luxury and glamour at our unforgettable New Year's Eve Celebration. This is the event you've been waiting for, and we guarantee that it will be a night to remember!
*Bogie & Bacall's Soirée is an additional cost and reservations are required. Please contact our concierge team to reserve.
A New Year's Eve Celebration You'll Never Forget at Bungalows Key Largo
Bungalows Key Largo invites you to ring in 2024 with a bang at our annual New Year's Eve Celebration on Sunday, December 31, 2023!
Begin your day with Gentle Sunrise Morning Stretch Yoga on Tranquility Beach before refueling at breakfast at Fish Tales. Then venture over to the Sunset Pool and unwind to the relaxing calypso sounds from Reggie Paul on Tiki Beach while you sip a refreshing cocktail. Explore the stunning blue waters aboard one of our Floating Tiki Boats or reserve a rejuvenating treatment at our tranquil Zen Garden Spa before the New Year's Eve Celebration begins.
The festivities kick off at 4:30PM with the first musical performance by County Wide Band, a renowned southern rock band hailing from Kentucky.
The celebration continues at 7:00PM with our exquisite New Year's Eve Beach Dinner Party specially crafted by Chef Juan Maradiaga – details coming soon, along with a lively show by the Bahamian Junkanoo Band.
After dinner, head over to Sunset Beach for a live performance from our headliner band, Patrick and the Las Vegas Band, followed by an elaborate Fireworks Display over the Bay and Champagne Toast at Midnight!
Get ready to immerse yourself in a world of music, fine dining, and extravagant entertainment. This is the celebration you've been waiting for, and we guarantee that it will be a night to remember – book your New Year's Eve vacation today!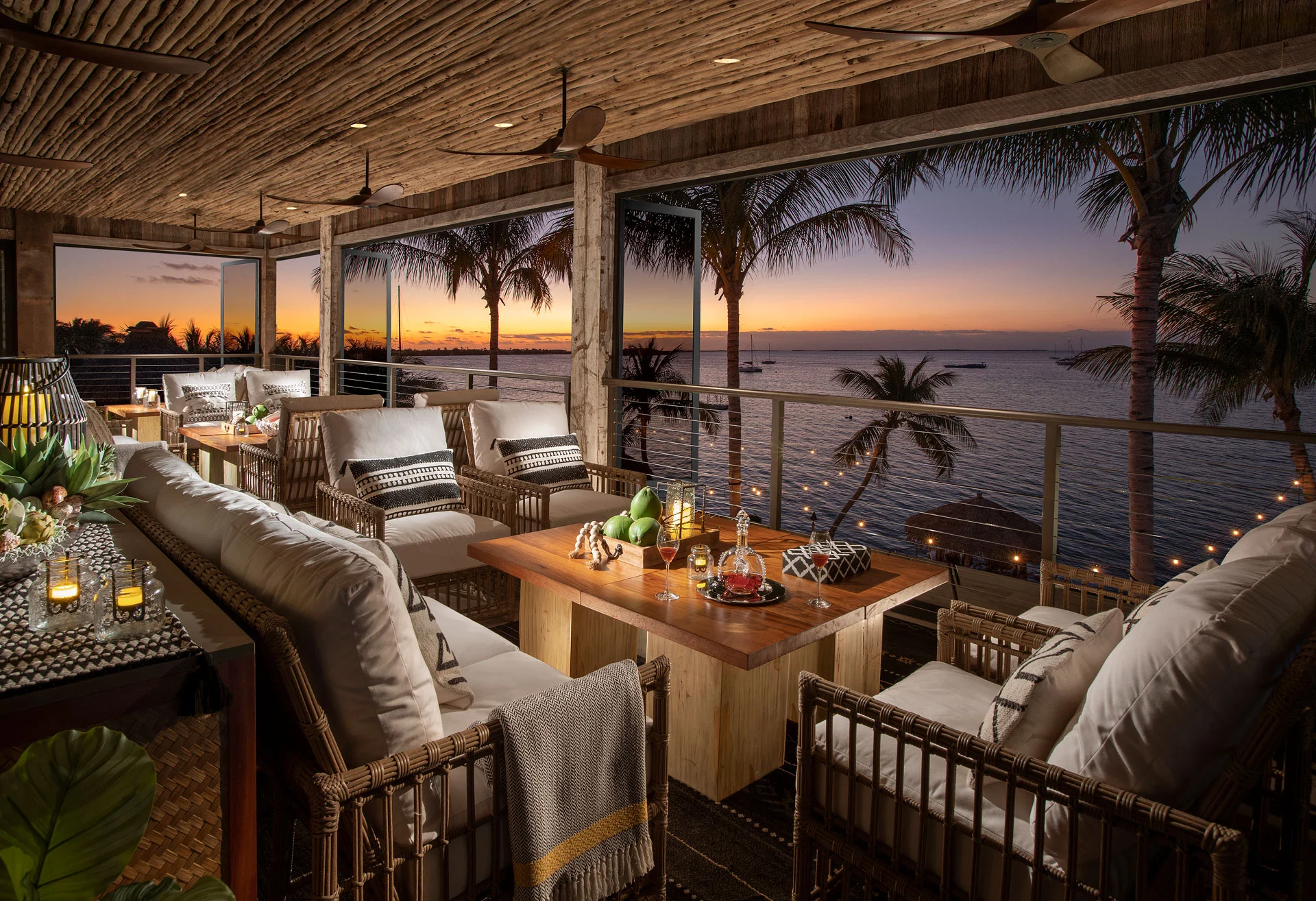 Bogie & Bacall's Secluded Soirée
We are delighted to offer an exclusive and extravagant New Year's Eve Soirée at Bogie & Bacall's for $300.00 per person, which includes a private cocktail reception in Hemingway Bar, an indulgent seven-course dinner, and exceptional seating to view the spectacular fireworks display over the Bay at Midnight. Bungalows Executive Chef Juan Maradiaga has crafted a delectable menu, featuring exquisite dishes infused with a blend of traditional and contemporary flavors, perfectly paired with complementing wines.
Not Included with your stay. Reservations required. The Hemingway Bar & Sunset Lounge will only be accessible to those with reservations for Bogie & Bacall's New Year's Eve Soirée. 30 day cancellation policy. Availability is limited – reserve your spot today.
Give the gift of Bungalows
If you're unable to escape for New Year's Eve, gift your loved one with the next best thing – a gift card to Bungalows Key Largo to use on a future getaway.